Sunday, August 7, 1932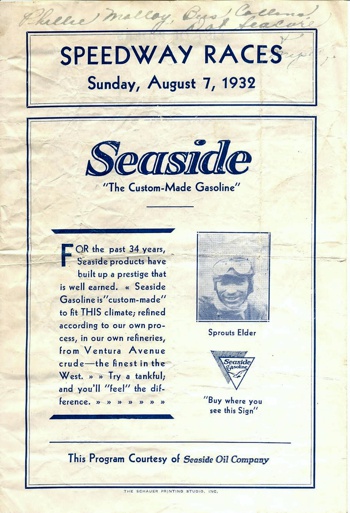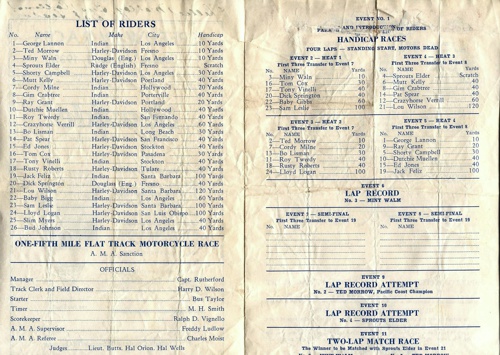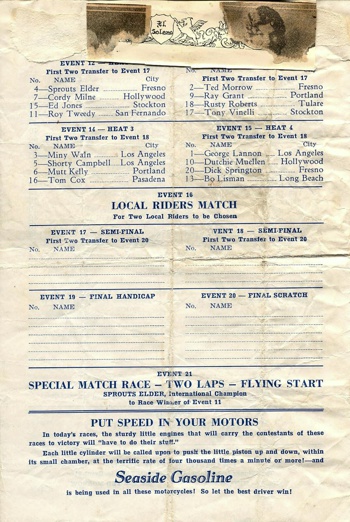 The Seaside Oil Company was founded in Summerland, Calif in 1898 as a production and pumping company.
They later got into refining and by the 1920s were into gasoline sales and service stations. A fire damaged their refinery in Summerland in 1921, but they bought another in Ventura in 1923 and at one point grew to some 900 retail outlets selling SEASIDE gasoline.
By the early 1930s the Summerland fields along the ocean were nearing depletion and the company had to look elsewhere to buy crude oil. Along the way they incurred a lot of debt and one of the companies they owed quite a bit to was Tidewater. That led to the takeover of Seaside by Tidewater in 1946 after having a partial interest in the company for a number of years.
While this race was actually not held in Seaside, for the time being I will call it that until I get confirmation of just where it might have been held. Gene has a pretty good guess and I bet he is pretty close. Malcolm has some great information about Sprouts Elder who is on the cover.
To me this race is during the time before flat track and speedway went in different paths. Since I am not a history buff on the details of this I can not comment further, in any case the program is very interesting. The races are held in the speedway format, such as handicap and scratch racing, and on a 1/5th mile track. The Hot Shoe Sprouts Elder is the only rider starting scratch, the rest are starting in front of the scratch line. This is European style handicapping as Nigel Bird of Birmingham England kindly pointed out recently. For example Lou Wilson has a staggering 120 yard handicap in his heat race. Sam Leslie, Lloyd Logan, and Jack Feliz also had a monster 100 yard starting lead. For a four lap race that yardage was something else. The bikes were the Indians and Harley's of the time with a Rudge-Whitworth and a couple of Douglass's from England thrown in.
"The best I can tell from doing a little research is that the race was held either in Santa Barbara, CA. or Ventura, CA. Around 1930 is when Seaside Oil CO. opened a station in Santa Barbara and Ventura. So my best guess is that the company sponsored the races and most likely at Ventura." Cheers Gene
"At the end of 1930 Sprouts Elder returned to California from Europe and built a track on farmland near his home to teach local riders, I believe in Fresno where he soon ran Speedway. Sprouts also ran tracks in San Diego, Santa Ana, Long Beach and Los Angeles. It would appear the West Coast Oil Company sponsored at least one race, maybe this company bankrolled more of Elders endeavors." Malcolm Roe.
Below are some photos of a 1932 Crocker Speedway Bike. While this make is not on the program above, it was probably raced somewhere out west. (Probably was not this pretty though.. LOL.)
I want to thank John Stewart for the Crocker photos.
"I was Grin's mechanic in England back in 91! Also worked for Lance and Sam E for some time in GB! Been involved for quite awhile!! Known Billy and Greg since they were very little! Moran's, Cookie, BP, Hans, Eric you name em, I know em!! As far as photo's are concerned I don't really have a problem with you using them! I have some programs/stuff you might be interested in, my collection is mostly early 30s! Some early 20s/30s euro stuff as well!" John Stewart, March 2004